Experiences such as Houston's new Seismique, which opens Dec. 26, are the most dynamic Instagrammable locations of the 21st century.
Built into the shell of a former Bed, Bath & Beyond big box on Houston's far west side, the 40,000-square-foot sci-fi fantasy playground is opening with 33 rooms. More are coming, say co-founders Steve Kopelman and Josh Corley. They commissioned the immersive, interactive environments from about 50 artists.
The concept? A spaceship has crash landed, full of rooms that contain a crazy mix of "native surroundings" collected from different galaxies.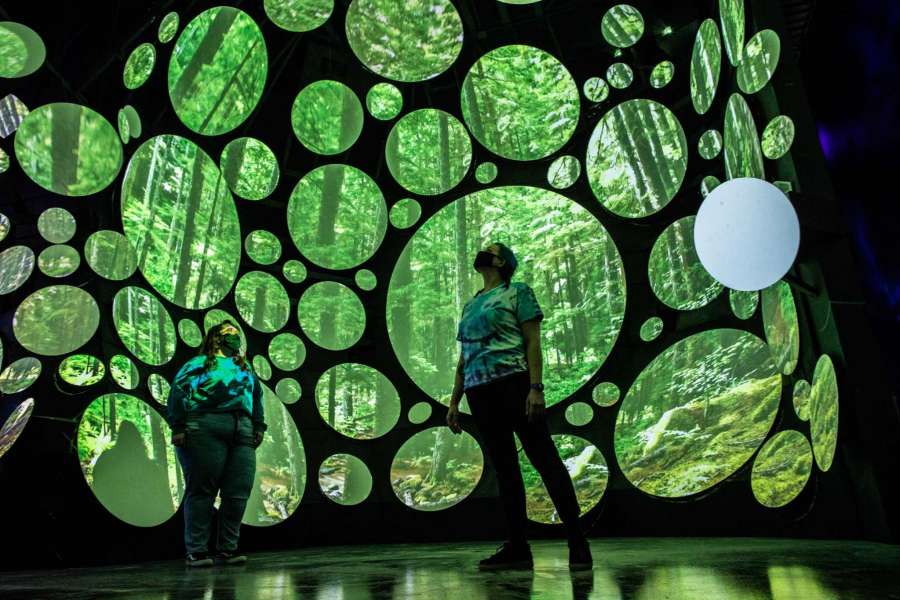 "We always try to build something people can take pictures of to say, 'I'm here,'" says scenic artist Dave Carry. His New Orleans company, Professional Scenic, built most of the environments, including rooms sprung from Carry's imagination and rooms designed by artists who specialize in programming interactive spaces. Carry wants the crazy, 360-degree environments of Seismique to be more than pretty. "They need to do something," he says.
Like the songs on a great album, the installations are paced to evoke different responses. Some tease the intellect. Some go for emotion. Some are just thrilling, goofy fun. And some — especially the lobby — provide a respite.
SeismiqueWhen:
 Opens Dec. 26; 10 a.m.-11 p.m. Saturdays, 10 a.m.-9 p.m. Sundays, noon-9 p.m. Mondays, Wednesdays, Thursdays; noon-11 p.m. Fridays
Where: 2306 Texas 6 S.
Details: $28 (children 12 and younger)-$35; timed entries; 346-202-6006, seismique.com
The lobby offers an optical illusion of the most analog kind, designed to make visitors feel like characters in a vintage cartoon. It looks sketched from floor to ceiling, with furniture you'd swear was drawn onto flat cardboard. Kopelman wanted a room inspired by the famous black-and-white cartoon cafés of Seoul, South Korea — a room void of color that would provide relief from sensory overload.
That's exactly what Carry delivered. "It's really not my style. I'm more spooky, sharp edges," Carry says. "It was a weird new thing for me to sit and draw a wacky cartoon world."
Mood shift
The mood changes abruptly through the Color Portal, a slick, angled hallway that leads guests in three directions. While guides will be on hand to help, visitors will roam freely, at their own pace. Fair warning: It may be hard to extract small children from some of the enticements. A group of test kids cried when they had to leave "Venus," a monumental, tactile hanging sculpture by acclaimed Japanese fiber artist Toshiko Horiuchi MacAdam. The multicolored playscape — the third of MacAdam's signature Air Pockets in the U.S. — is part hammock, part beehive, made of crocheted circles, open pockets and dangling pendulums for climbing and playing.
"Believe me," Kopelman says, "we've been going over what happens when lots of children are in here." Every exhibit has to be durable for young visitors, too. "In a normal museum environment you have docents making sure you don't touch anything. Here we have guides encouraging you to touch," Kopelman says. (Maybe less so during the pandemic.)
Murals throughout Seismique are purposefully low-tech but amped up with lighting. Austin artist Aerica Raven's especially good "Europa" fills a wall with a fantastical botanical drawing in red and blue inks that appear to advance and recede within an evolving rainbow of lights.
Every room is head-spinning in its way, although perhaps none as literally as "Worm Hole," Ohio craftsman Mark Roberts' vertigo-inducing fun house spinning tunnel in an octagonal mirrored environment.
The artists say Kopelman is particular about what he wants but knows how to nurture and encourage budding talent. More than once, apparently, he has told artists, "So, here's an empty room, and here's some materials and resources. What can you do with it?"
Art coming alive
Kopelman says he has spent about $1.2 million on artist fees and materials. Working from a shared workshop full of gizmos, the artists helped each other and learned as they went. (Kopelman also supplied a living space that has held four visiting artists at a time, creating a true studio atmosphere.)
"Steve's thrown rocket fuel on my career," says Joshuah Jest, a video and projection mapping specialist who designed five rooms. "He's the best executive producer money can't buy."
Billy Baccam and Alex Ramos, the Houston digital creative team that operates as Input Output, pitched an idea to Seismique in February for an interactive digital waterfall in a cavernous setting. That led to other opportunities, including "Circuits," which resembles a giant circuit board with projection mapped currents and ultra-violet lighting; and "Rainbow Shadows," which simulates water rippling across walls. And finally, they are programming Carry's "Crystal Cavern."
"We've grown exponentially in the last few months," Ramos says. "In the beginning we were working with one projector at home." Input Output also had never worked with a scenic design team, he adds. "Now we're doing tech schematics and thinking about how to communicate ideas to welders who build them."
Baccam says he and Ramos learned a lot from Smooth Technology, a Brooklyn group that stages special effects for the likes of Lady Gaga. Smooth Technology created the thruster for the spaceship in Seismique's Hub as well as "Acid Rain," a supernatural water experience where rain magically stops as people walk into it, and water sometimes "falls" from the ground up.
Carry and his crew learned some things, too. They can pretty much look at any idea and figure out how to make it physical. "Eden," their black-light botanical garden, is inspired by the James Cameron film "Avatar." But they had never integrated projection mapping into their environments. "It's great to see it come alive," Carry says.
---